RIC's Stillman uses music to inspire, unite the community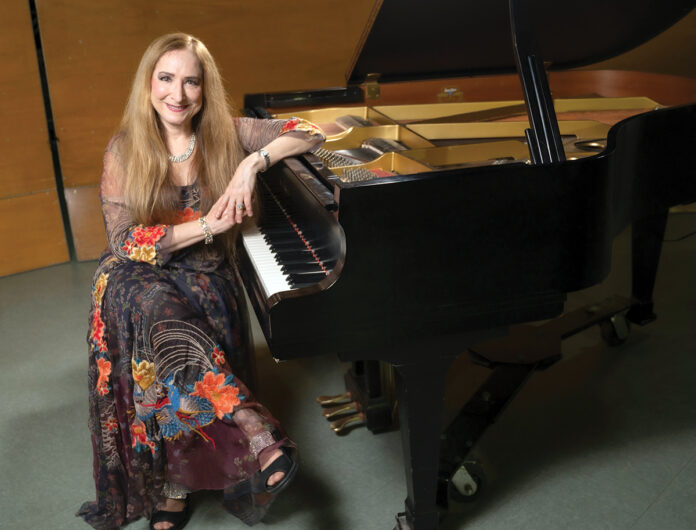 PBN 2023 Business Women Awards
CREATIVE SERVICES INDUSTRY LEADER:
Judith Lynn Stillman | Rhode Island College artist-in-residence and professor of music
---
ARTISTIC EXPRESSIONS INFUSE every aspect of Judith Lynn ­Stillman's life. Through her artistic endeavors, Stillman – Rhode Island College's first and only artist-in-residence and music professor since 1980 – strives to raise awareness about issues that are close to her heart. Among them are women's rights, human rights, diversity and inclusion, genocide education, climate change, bullying and speaking truth to power.
During the global Syrian refugee crisis in 2016, Stillman felt compelled to do her small part to alleviate refugee suffering with sustenance for the soul, while acknowledging food and shelter as essential basic needs.
"Bringing a small keyboard with me to refugee camps, I played folk tunes from refugees' homelands and sang and danced with refugees in Greece," Stillman said.
U.S. Rep. David N. Cicilline, D-R.I., said that Stillman has used her talent and her music's beauty to "underscore some of the ugliest periods in human history."
"She's caused people to become much more aware of important and ugly moments in world history," said Cicilline, the soon-to-be next leader of the Rhode Island Foundation, "but she's also shared her incredible talents as a musician, composer, artist and filmmaker."
Stillman, an internationally recognized pianist, composer, music director, filmmaker and artistic visionary, earned her doctoral degree in musical arts at The Juilliard School. She discovered the joys of musical performance at a very young age. Even before attending Juilliard Pre-College in elementary school, Stillman recalled that her "concert career" began in kindergarten, performing for the entire school in assemblies with "unbridled excitement." Stillman has won 18 piano competitions and performs in distinguished venues throughout the world.
Stillman has received more than three dozen prestigious recognitions. But she is most appreciative of the Pell Award for Outstanding Achievements in the Arts she received from the Trinity Repertory Company.
"Being nominated by the miraculous Oskar Eustis [formerly of Trinity Rep] … and having been presented with it by Wynton Marsalis were extraordinary moments in my life," said Stillman, who, with Marsalis, created a SONY duo album that made the Billboard Top Ten.
Other recognitions that Stillman holds dear are her recent first prize in the Opera­Vision International Competition as composer, filmmaker and pianist for the mini opera she created, and being named Honored Artist of The American Prize as both pianist and ­composer.
Stillman's mentors – her parents, grandparents and musical luminaries Rudolf Serkin and Leon Fleisher – nurtured her artistic passions.
"My mentors offered me words of wisdom and musical secrets and insights that I impart to the next generation," she said.
As Stillman continues to perform, her students trust her, she says, to provide invaluable firsthand advice. "I have deep respect for the fragile nature of trust – the bedrock of a successful student-teacher relationship," Stillman said.
Stillman, regarding her role as RIC's artist-in-residence, says she is honored to be an artistic ambassador for the state and to use her role to enhance the community's cultural fabric.
"I'm not sure people fully realize what a world-class, internationally acclaimed artist she is. We're lucky she calls Rhode Island her home," Cicilline said. "She's one of the real treasures of our state."
Despite an extremely busy schedule, Stillman finds time to give back. With her "nurturing gene," she visits hospitals and nursing homes with her therapy dog Poochini – a nod to composer Puccini – and plays piano at senior centers.
"I am grateful to use my art and craft to give voice to the voiceless, to heal, to revive, to educate, to enlighten," Stillman said. "Arts are the foundation of civilization and artists have the power to transcend, to transform and to triumph."
Calling her "the best you could expect of a human being and an artist," Cicilline said Stillman uses her craft and visionary talent in a way that not only shares her artistic genius, but also elevates the importance of understanding the human condition.
"She's one of the most remarkable people I know," Cicilline said.